As I wrote in my blog on valuation of Philip Morris International, tobacco stocks have gone through an era of great multiple de-rating since mid-2017. Though JUUL driven threat to cigarette volumes has subsided, the valuation multiples of the sector have still not recovered. This reinforces my view that key overhang on tobacco stocks is regulation, that is why I have preferred to stay away from companies with exposure to U.S. combustible profit pool (Altria, Imperial Brands, and BAT).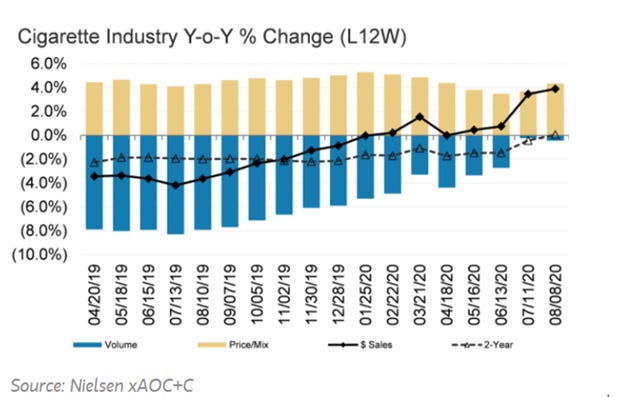 Sweden based Swedish Match (SWMA) also has exposure to U.S. profit pool but unlike cigarette companies SWMA's exposure to combustible/smokeable profit pool is only limited to 27% of EBIT. Moreover, SWMA is disrupting 1.8 bn cans oral nicotine market in the U.S. through Zyn, its oral nicotine pouch product. Though the stock is up +10% since I first tweeted about the stock 2 months ago, I do believe that risk/reward is still favorable as SWMA trades at significant discount to high quality/high growth consumer staples peers (L'Oreal, Estee Lauder, Boston Beer etc.).
I will not go into a various business segments of SWMA in this post and will focus on key debate points, but for those who are completely new to the story, please refer to management presentation.
Swedish Match manufactures and sells snus, tobacco-free nicotine pouches (ZYN), moist snuff, mass market cigars, chewing tobacco and lighters/matches. ~60% of revenues come from oral nicotine business with its leading position in the Scandinavia oral tobacco market ('snus', ~32% of group revenues) and from its #3 position in the growing US oral nicotine market (~30% of group revenues). US mass market cigars represent ~30% of revenues.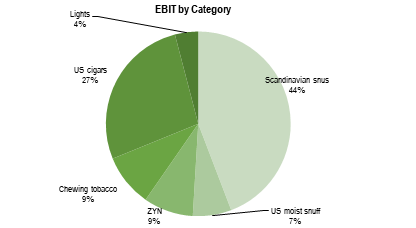 Most products that SWMA sells are oral products with a reduced risk profile relative to cigarettes. For example, snus is the dominant tobacco product in Sweden (even more popular than cigarettes) and given the less harmful nature of the product, tobacco related deaths are lowest in Sweden.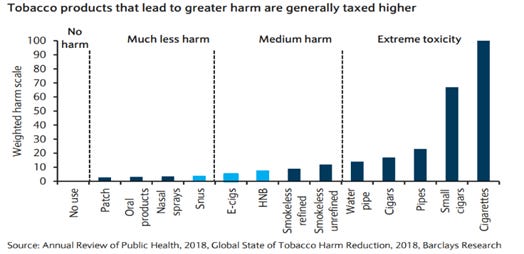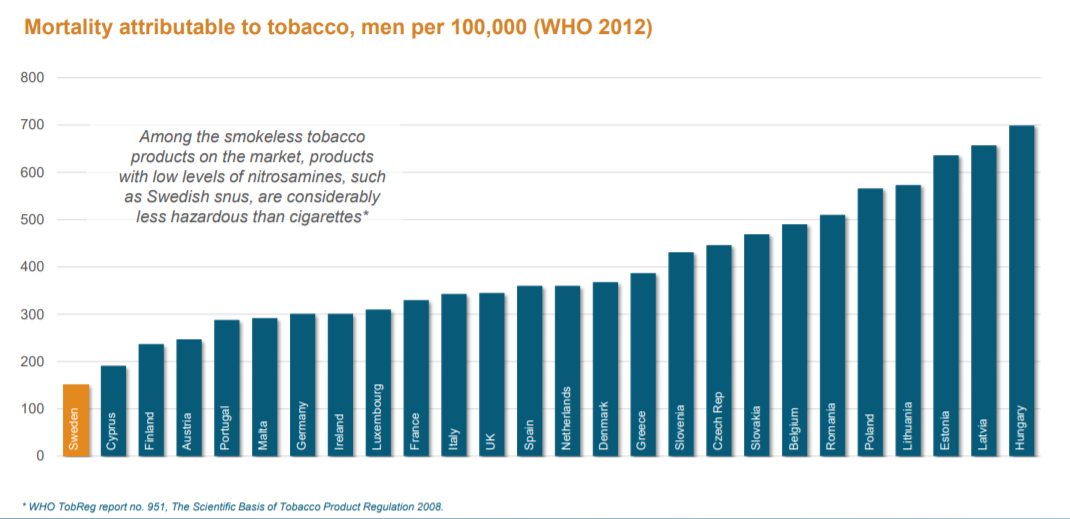 Part 1: Zyn and U.S. Oral Nicotine Market
Though SWMA is a dominant player in Nordics, but real action is taking place in the less talked about U.S. oral nicotine market (30% of group revenues). US oral nicotine market encompasses of four products (~1.8 bn cans in total): moist snuff (~1.5 bn cans), snus, chewing tobacco, and nicotine pouches (~75 mm cans in 2019). Altria (51% market share) and BAT (38% market share) dominate the oral nicotine market and generate 73%/55% operating margins in their oral segments. However, Zyn (nicotine pouch product from SWMA) is disrupting the US oral nicotine market by taking market share from moist snuff and other oral products. For instance, ZYN was initially launched in the western regions of Mountain and Pacific in 2016, which together account ~13% of US moist snuff volumes. As per US scanner data, ZYN's market share (as a % of moist snuff market) in initial launch markets has already reached 28%. Per management, in expansion markets (75% of distribution base of 80k stores), product velocities (# cans sold per store) are 20% higher than that of initial launch markets.
There are many reasons for Zyn's astounding success and market share gains in the oral nicotine category. Some of these reasons are:
a) growing awareness of the product, and category (20% higher product velocities) with Altria and BAT launching their products in U.S. and educating the customers about the new category in the process,
b) health benefits of the product - Zyn is a non-tobacco product (moist-snuff contains tobacco),
c) convenience appeal relative to moist snuff. Moist snuff makes users salivate and users need to spit-out the product. Zyn on other hand does not lead to salivation and a user can consume product on more occasions,
d) nicotine pouch category attracting users from e-vapor and combustible category – management believes that 50% of users come from outside oral category, and
e) higher retail margins for the product, a retailer gets 25% margins on Zyn vs 8%-10% on a can of moist snuff. Therefore, retailers provide prime shelf space to Zyn.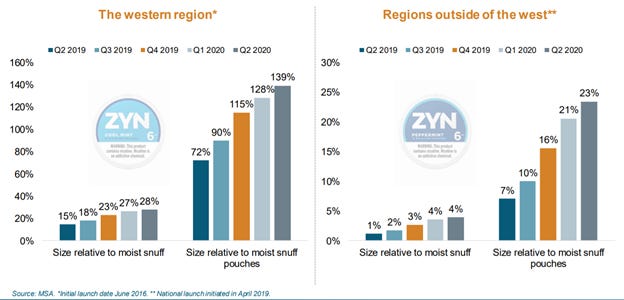 I expect nicotine pouch as a category to reach 28% of the national moist snuff market (from current ~4%) by 2023. At 28% national penetration, industry demand for the product will be 420 mm cans in 2023 with Zyn continuing its dominance despite market share losses (from 77% currently to ~50% by 2023).
Why Zyn will dominate the market in 2023
Looking at the market share development in ZYN's expansion market, Zyn has come out as a winner wherever it has gone head to head with competition. My interaction with management teams of multiple convenience store chains (Caesy's, Couche-Tard etc.) reinforced this view on Zyn's superior performance relative to competition. For instance, in Q1-2020 Zyn added 13K new distribution points as Walgreens decided to expand availability given exceptional product velocities. Moreover, Zyn has been capacity constrained on numerous occasions in the last two years. ZYN's current annualized capacity is ~120 mm cans and SWMA is stepping up the capacity build to ~160 mm/200 mm by end of 2021/2022. It takes ~18 months-2 years for capacity to come online post capacity announcements.
Altria is also ramping-up production capabilities for On! (competing nicotine pouch product) and will reach a capacity of 75 mm cans by mid-2021. Post 2021, I expect the capacity for On! to increase by 30 mm per year to reach 150 mm cans by 2022. For BAT's Velo/Lyft major expansion will not begin till the time Lyft gets PMTA approval from FDA, which I consider a 2021 year-end scenario. I assume a capacity addition of 30 mm cans per year for Velo/Lyft, with total capacity 50-60 mm cans by 2022. Also, I do not expect price competition in the category as Altria/BAT would like to position nicotine pouch as a premium product and would not want to cannibalize 73%/55% moist snuff margins with something margin dilutive.
In summary, I expect that industry capacity will be ~400 mm cans by end of 2022 (Zyn: 200mm, On!: 150mm and Velo/Lyft: 50mm). There is no doubt that the market share of Zyn in the oral nicotine category will go down but despite this industry will be just selling whatever it is able to produce in 2023.
Margin profile: Zyn had ~40% EBIT margin in 2019. Manufacturing cost of a can is $0.8-$0.9 with ~$0.9-$1.0 in SG&A (versus ~$0.40 per can for the rest of SWMA's US moist snuff business). Higher SG&A expense is due to the cost of display installations and higher incentives required to engage with stores. The company has recently raised its list prices from $3 to $3.09, while launching a campaign that allows retailers discounts of 20 cents if they agree to a 1–3-year contract to promote ZYN through specific signage.
My base case assumes EBIT margin of 50% for Zyn by 2023 as the category stabilizes and SG&A expense normalizes. In fact, we got the glimpse of steady state margin profile for Zyn during Q1/Q2-20 earnings – Zyn achieved 50%+ operating margins as it cut back on marketing spend due to Covid-19 related pantry load.
Part 2: Limited regulatory risk relative to other tobacco players. Impact of cigar flavor ban will not be catastrophic, expect 6% impact on SWMA's EBIT in 2022.
SWMA gets 27% of its EBIT from US mass market cigars, and ~12.5% from flavored cigars. US cigars category grew at a 9% CAGR between 2014-18. Volume growth for cigars was driven by a) improving affordability relative to cigarettes, and b) greater flavor innovation in cigars.
After an exceptional category growth, the category decelerated in Q418 following Scott Gottlieb's, former FDA commissioner, willingness to ban flavored cigars (44% of industry cigars volume is flavored). The ban risk led to a stoppage of product innovation, especially in HTL cigars. Flavored cigars may get banned when tobacco players apply for substantial equivalence (SE) to get marketing authorization. I expect FDA's potential ban on flavored cigars, at the earliest, will come in force by end of 2021 (e-cigs is priority for FDA and cigar is low priority). Flavored cigars, which have been declining at HSD, will be ~11% of SWMA's EBIT by end of 2021. Such a ban would impact 2022 EBIT, but SWMA can offset the potential adverse impact on volumes through price increases on the rest of the cigar portfolio (which are priced at steep discount to cigarettes).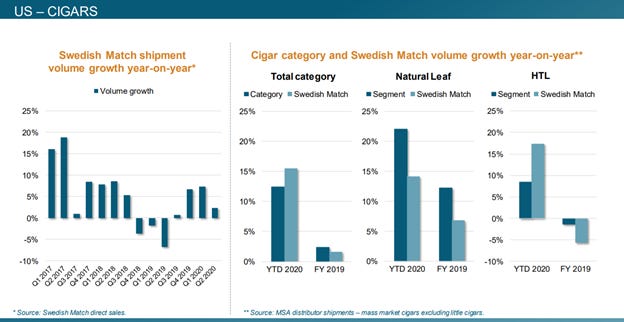 Canada menthol cigarette ban, and Juul flavor ban demonstrate that tobacco companies are successful in switching customers to other variants of the same brand. If SWMA takes 5%-10% pricing on its existing unflavored cigar portfolio and switch ~50% of the flavored cigar users, then the impact on EBIT in 2022 will be ~6%. In the long-run, I expect US cigar portfolio to deliver 20 bps margin expansion, and grow by 2%-3% (it grew double digits in last 2 quarters due to pantry loading) driven by strong performance of natural leaf cigars and relative affordability to cigarettes.
Risk of flavor ban in California: There is a Californian Senate bill that seeks to ban all flavored tobacco, including flavored Zyn products. Almost 100% of Zyn sales are in flavors, so any flavor ban poses headline risk to Zyn. California is 7% of SWMA volumes. In the case of a flavor ban, the oral nicotine pouch market will become a duopoly between on! and Zyn. Any Zyn flavor ban can become a headline risk but impact to overall profitability will be small, it is unlikely that a flavor ban will come in force at national level.
Part 3: Scandinavian market share losses have moderated; expect Scandinavian revenues to grow at 3% (1/2 of category growth rate):
SWMA is market leader in Scandinavian snus market with 61% market share in Sweden and 56% market share in Norway. SWMA has been losing market share in Sweden (370 mm cans market) and Norway (80 mm cans market), the reason for market share loses is part transitory and part structural.

Transitory reason: Increased competition in the "premium snus" segment in Swedish market
SWMA has lost share in premium segment driven by cannibalization of Premium 1 segment (cans priced at SEK 45+, 55% margins) by Premium 2 (36-40 SEK per can, 49% margins) and shares losses within Premium 2 vs BAT's Lundgrens. In Q219, SWMA announced launches in Premium 2 segments with the repositioning of its Onyx brand, an additional XR variety, and a limited edition of Wisby White. This has helped in moderation of market share loses in Sweden over the last 3 quarters (from 150 bps per quarter to 30 bps).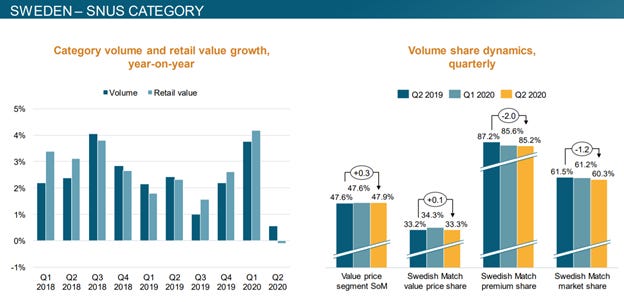 Nicotine pouch market is 5% of the total market in Sweden, growing at ~100%. SWMA lags BAT's Lyft as SWMA focused on using the capacity to support US demand. The market share for Lyft and Zyn has stabilized at 59% and 26% respectively. I expect the NP market share to remain stable in the future with Zyn growing at category growth rate.
Structural reason - SWMA's high exposure to some of the declining segments of the market (e.g. Norwegian loose snus and portion market):
Norwegian market is moving towards a nicotine pouch market from traditional snus market. Nicotine pouches represented ~20% of the Norwegian snus market in Q419 and drove the market growth (growing 50%+ vs snus volume –ve LSD). BAT's Epok is the market leader in nicotine pouches (66% share); given the restrictive advertising regulation in Norway and plain packaging, SWMA is struggling to increase the awareness of its products.
Overall, Scandinavian market (Norway + Sweden) has been growing at 6%-7% rate, with LSD growth rate of snus and accelerated growth in nascent nicotine pouch segment, I expect SWMA to grow at half of the oral category growth rate as its market share loses moderate and its penetration of nicotine pouch market increases. My base case assumes 3% growth rate in the Scandinavia.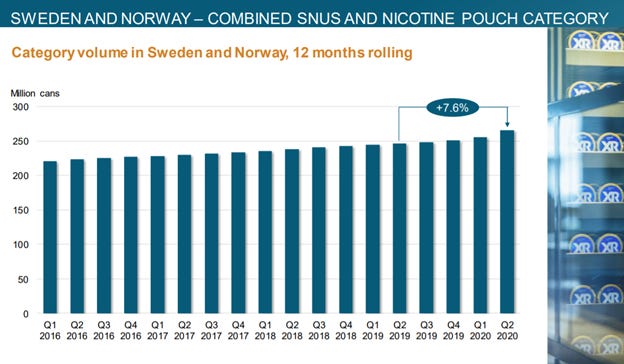 Part 4: Highly cash generative, non-cyclical business with stellar ROIC
Tobacco remains an oligopolistic market with regulation facilitated barriers to entry. After Juul saga, the regulatory barriers to entry in the industry will become formidable, lowering the likelihood of a start-up disrupting the category/industry. Tobacco is a highly cash generative business which has proven to be recession resistant. Currently, SWMA generates 39% operating margins with 50%+ ROIC and EBITDA to FCF conversion of 75%+ (which will improve to >90% as Zyn related capex tapers off).
Valuation
85% of SWMA's growth will be delivered by strong Zyn momentum. I believe Zyn will sell 210 mm cans in 2023 from current run rate of 120 mm cans with Zyn revenues becoming ~32% of total revenues. My Base case assumes that SWMA will be able to grow EPS at 14.5% CAGR b/w 2020 and 2023. SWMA has ~2% dividend yield, providing 16.5% CAGR total shareholder return over the next 3-4 years (even without any multiple expansion). The long-run algorithm would be 4%-5% organic growth & HSD/LDD EPS growth with ~2% dividend yield.


SWMA currently trades near its 3-yr average multiples (18.5x NTM P/E and 14.5x NTM EV/EBITDA). SWMA should not be benchmarked to tobacco stocks which trade at 25% (PM) to 50% (BAT, MO, IM) discount to SWMA on both earnings and EBITDA multiples. These stocks have anywhere b/w 80% - 95% of their revenues from combustibles with risk of regulatory action vs 27% for SWMA (US cigar portfolio). If SWMA is valued using a blended multiple of tobacco stocks (30%) and HSD/LDD EPS growth staples stocks (i.e. 70% weight to earnings multiple of Beiersdorf, Nestle, L'Oreal, Symrise, CHR. Hansen, Givaudan, EL) then appropriate multiple for the stock will be 22x forward earnings. I believe 22x is an upper bound multiple for the stock, but as I said above, even without multiple expansion SWMA can deliver 16.5% CAGR total shareholder return.
Risks: The key risk remains regulation. California flavor ban can be followed by other states but I do believe nicotine pouch is a reduced risk product that is not attracting new users to the category. FDA gave MRTP (modified reduced risk tobacco product) status to SWMA's general snus in 2019. General Snus contains tobacco and logically Zyn (with no tobacco) is even safer than General Snus, so banning it is counter intuitive.